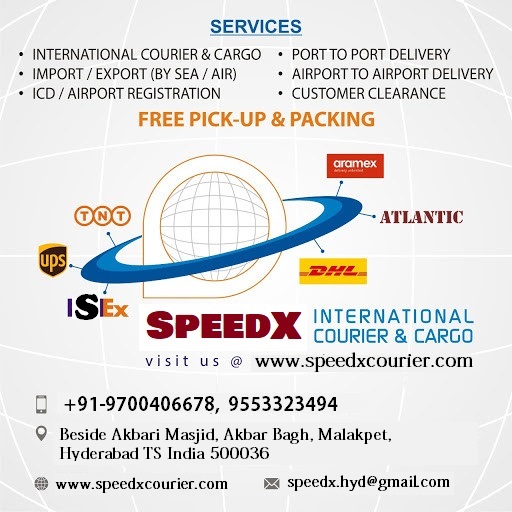 International

Food Products Express

SpeedX Courier an exclusive courier & cargo service provider for sending all types of Food items, House hold items abroad to all countries like UK, USA, CANADA, DUBAI & REST OF THE WORLD. We also offer special discounts for parents sending food items, books, clothes & other necessary things to their children studying abroad..
We Accept the following items by International Courier:
Sweets, Snacks, Homemade Eatables ,Pickles, Sambar Powder, Rasam Powder,Spicy Masala, Pulses, Spices, Savories ,Rice, Wheat Atta, Grocery Items ,Indian Spices, Masalas, Jaggery, Tamarind ,Masala Pastes, Condiments, Mixer Grinders, Electric Items, All types of home made food products.
Medicines,Handicrafts, Photo frames, Mixer Grinders,Furniture's, Furnishing Cloths, Woolen Items
Books, Text Books, Note Books, CDs, DVDs, Stationary Items ,Electronic goods, Grinders, Mixers, Computer Accessories ,Home Appliances, Utensils, Children Toys ,Sarees, Dress Materials, all types of garments ,Corporate Gifts ,All types of house hold goods
Important Note: Couriering the daily use items every month from India is cheaper than buying them at USA, UK, CANADA & Rest of the World.
Whether you send 1kg or 1000kg - We accept it all
Guaranteed Door Delivery within just 3 to 5 working days
Best International Courier Service in Hyderabad, Cheapest Courier Services in Hyderabad, Cheapest Courier Services in Secunderabad. The advantages of getting your goods shipped through SpeedX Courier express are many:
Phone: 91-97004-06678, 95533-23494 Email : speedx.hyd(@)gmail.com